The new year is just around the corner, which means it's time to start making some resolutions! Whether you want to be more productive or perhaps exercise more in 2018, the key to achieving your resolutions is constantly reminding yourself of the benefits that each will provide in making you a happier, healthier you!
Though your HVAC system may be the last thing on your mind when you start to make New Year's resolutions, the truth is that your home comfort system does play a big role in your health and happiness year-round. That's why we've put together a few simple resolutions you can make this year to keep your HVAC system running smoothly and efficiently.
HVAC New Year's Resolutions
Want to be good to your HVAC system in the new year? Try some of these simple HVAC New Year's resolutions that can help you keep your air conditioner and furnace running smoothly to keep your family comfortable year-round.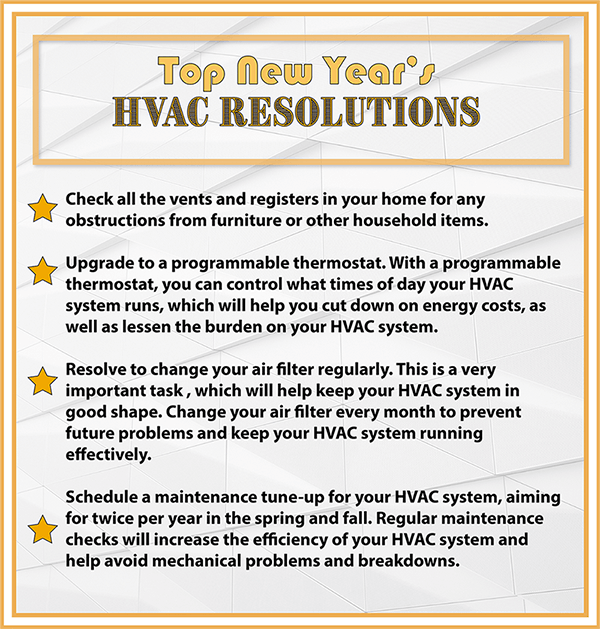 Keep Your HVAC System Happy in 2018
One of the best ways to make sure that your HVAC system is running smoothly and efficiently year-round is to keep up with your routine air conditioning and heater maintenance. At Kemnitz, we make it easy to stay on top of your yearly maintenance with an HVAC service agreement.
An HVAC service agreement helps ensure that your system is getting the maintenance it needs on a regular basis. Consistent maintenance is the key to keeping your system running efficiently and getting many good years out of your air conditioner or furnace. Not only does this help you save more money in the long run, but it allows you to enjoy consistent home comfort year-round.
Interested in learning more about our service agreement? Call us today to speak to a home comfort specialist: (949) 453-8500.
---
Category:
HVAC Maintenance
Tags:
HVAC Maintenance
,
HVAC Repair
,
HVAC Tips