To say that a thermostat is an important part of an HVAC system is an understatement. It's what dictates how often a heating or cooling unit runs, as it's responsible for monitoring the air temperature within the room. When something is wrong with your thermostat, you can expect your furnace, boiler, heat pump or air conditioner to act strangely.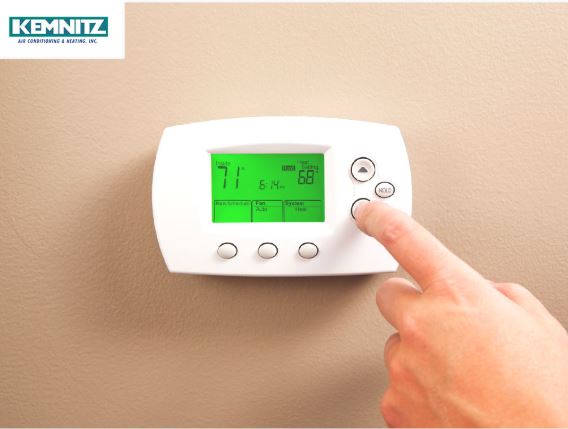 To determine whether your thermostat is the problem when your HVAC equipment seems to be faulty, perform the following tasks:
Adjust the Temperature Beyond the Normal Setting
Any experienced furnace, boiler, heat pump or AC repair technician would advise you to set your thermostat 5°F higher or lower than usual. This setting should prompt your device to signal for heating or cooling. Your HVAC system will respond accordingly if your thermostat is in good working condition.
Check the Mode
Sometimes an HVAC unit doesn't produce warm or chilled air upon request, or continues to operate after the indoor temperature has already reached a comfortable level. This anomaly happens when the thermostat is set to an incorrect mode.
To solve this common problem, check to see if it's set to HEAT when you need heating or to COOL when you want cooling. If your system's blower fan doesn't stop, make sure your thermostat is in AUTO mode. The fan won't stop running if the thermostat is set to ON.
Make Sure No Circuit Breakers Were Tripped
If your thermostat can't seem to trigger your HVAC equipment to switch on, check that it's receiving power. The main circuit breaker should be in the ON position.
Survey the Sun
A thermostat may misread the air temperature within a room when it's in direct sunlight. The sun can trick the device into thinking that the space is hot when it's not. This possibility can create problems during heating and cooling seasons alike.
Schedule a Furnace, Boiler, Heat Pump or AC Repair in Orange County
Turn to Kemnitz Air Conditioning and Heating to arrange an AC repair or any HVAC maintenance task. We know what constitutes a thermostat issue and can perform the necessary tune-up to ensure your heating and cooling system works perfectly. Call us at (949) 467-9157 today to request immediate service.
---
Category:
Heating
Tags:
HVAC Maintenance
,
Thermostat
,
Thermostat Diagnostics