When most of us here the term "air pollution," we think of the air outdoors. But the truth is, many of the chemicals, particles, and other pollutants that impact the quality of air outside can also start to affect our indoor air quality. If you're living in South Orange County, it's important that you get to know more about the air quality in the area and how to protect your family from contaminants in the air.
What You Need to Know About Indoor Air Quality in South Orange County
Below, we've put together a short and simple guide that will better help you understand South Orange county air quality and how indoor air quality can impact your home environment and family's health: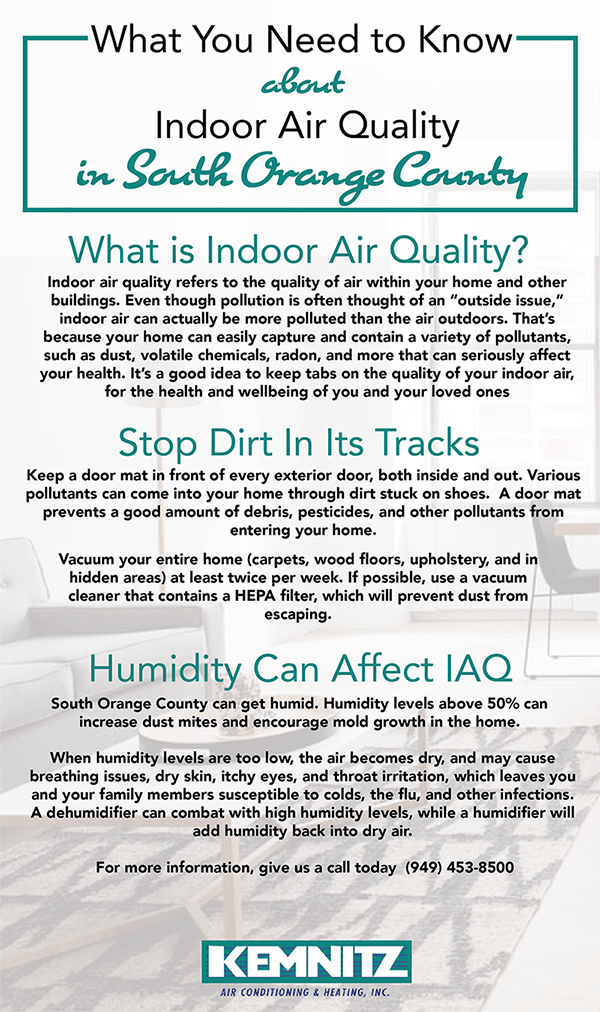 If you notice that you or your family members are getting sick more often or having a hard time breathing freely, this may be due to your indoor air quality. Not to mention, those who suffer from allergies, asthma, respiratory issues, or weakened immune systems are especially susceptible to the health hazards that poor air quality brings about. If you want to explore your options for improving indoor air quality, contact us today. We have a range of IAQ solutions that will allow you and your family to enjoy cleaner, healthier air.
https://www.kemnitzhvac.com/wp-content/uploads/2017/02/HEROKemnitzWhatYouNeedToKnowAboutIAQ.png
372
954
https://www.kemnitzhvac.com/wp-content/uploads/2016/04/kemnitz-logo.png
2017-02-27 19:53:38
2017-02-27 19:53:38
What You Need to Know About Indoor Air Quality in South Orange County